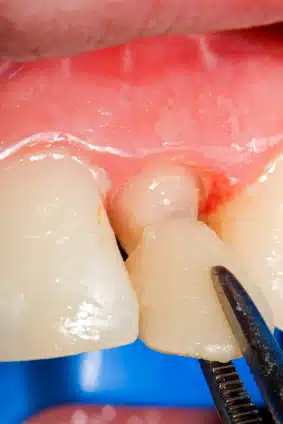 Veneers are incredibly thin porcelain covers for your teeth. They are created especially for each individual person and are very strong despite being so thin that they fit over the top of your teeth. Many people use them as a means to get a perfect smile, and many more use them to build self-confidence by covering dental imperfections or stains.



Covering Dental Imperfections

Because veneers look so natural now, a huge number of people are getting them to hide their imperfect teeth. Some of the things that veneers can hide include chipped teeth, crooked teeth, gapped teeth, stains, or just poor-quality genetics. Porcelain veneers are fantastic alternatives to having extractions and implants because they can immediately correct all of the imperfections that you see in your teeth all at once. Further, they are fully customizable because they are made of porcelain. This means that you are able to get your best smile that looks and feels the best for you. Their size, shape, and color are fully changeable, and if you needed, you could even get just one on a single tooth—or multiple spread out within your mouth.


However, it should be noted that while veneers are a pretty instant solution for teeth' aesthetic issues, they do not correct the issues that are still within your natural teeth. If you are prone to increased plaque production, you will still need to care for your teeth as you did before—if not more so because the discomfort will be harder to track once there is a cover on the problem area.



Contact Us for More

We are your local solution for fixing dental discomfort and for obtaining that perfect smile. If you are considering getting a veneer for a tooth or three or a full mouth, we are your dentists. Please contact us for the next available appointment.